Meet the energetic team behind AND guided by industry veterans on the advisory board.
Sowjanya is AND's go to person for process improvement, transaction advisory and strategic initiatives. With over 15 years of experience in financial consulting and fundraising, Sowjanya has been a part of 2 startups, and worked with Greenko & Wipro in prior roles.
With her experience in raising equity and debt, she thoroughly understands investor & lender requirements. Her consulting experience spans across IT/ITES, Renewable Energy, Agriculture and Infrastructure Domains. She holds an MBA from IIM Ahmedabad and B.E. (Computer Science) from OU College of Engineering.
Dhruv oversees execution at AND, with over 14 years of experience in financial modeling, FP&A, fundraising, due diligence and process improvement. He has worked on successful M&A and fundraising transactions worth $1 Billion, with a focus on SaaS, energy and infrastructure projects across the globe.
Dhruv is also an empaneled Finance Expert & Management Consultant on the global 'Top 3%' Toptal platform. He holds an MBA from IIM Ahmedabad and B.E. (Electrical & Electronics) from CBIT Hyderabad.
Kirti Poddatoori, Partner
Kirti believes that building relationships based on trust is key to a successful business. She oversees BD & marketing at AND as well as being involved with execution.
A business analyst with over 13 years of experience, notably in Ernst & Young and Frost & Sullivan, Kirti comes with rich experience in financial, commercial and strategy consulting across life sciences, infrastructure and agriculture. She holds an MBA in Finance & Marketing from Bangalore University.
Shadaab Ahmed, Vice President
Shadaab has more than 10 years experience in the Risk & Consulting industry and specializes in process improvements, growth strategies and design thinking. He has worked with Deloitte India and as an Independent strategy consultant. 
At AND, Shadaab leads assignments across sectors with a focus on market research, secondary analysis and financial modelling. He holds an MBA from Asian Institute of Management and an M.S from SUNY Buffalo.
Sudha Gadepalli, Vice President
Sudha has 17+ years of experience in Consulting & Corporate Strategy across sectors including financial services, power & infrastructure, manufacturing, telecom, education, EPC and healthcare.  She specializes in transaction advisory, project finance, financial modeling and due diligence.
Sudha has worked with Edelweiss, Nephroplus & Infosys in prior roles. She holds an MBA from IIM Ahmedabad and a B. Tech from IIT Madras. Read More.
Harinath Rao, Senior Associate
Hari has had an entrepreneurial journey over his 5-year career. He has built business cases for an agribusiness company, created a roadmap for a rainfed agricultural narrative. He is comfortable with technology and was part of a team that serviced an MNC with Oracle ERP.
At AND, Hari works with clients on market research, business plans, growth strategies, and process improvement. Hari has degrees in sciences and liberal studies, and has also been developing a multi-fruit orchard based on design principles.
Ronit Jaiswal, Senior Associate
Ronit has served as an Analytics professional for 2 years prior to joining AND. Business analytics, dashboarding & automation are some of his key capabilities.
Ronit has previously worked with McKinsey in data-driven pricing, promotional and growth advisory capacity. He holds an MBA from IIM Bodhgaya. At AND, he is responsible for business planning, financial modeling and growth strategy.
Team of Subject Matter Experts
In addition to its in-house team, AND Business Consulting works with a team of subject matter experts to advise on industry-specific and goal-specific projects.
AND has tie-ups with subject matter experts across Operations, Process, HR, Sales & Marketing across industries. 
Mr. Sambamurthy, CA, has over 30 years of experience in treasury & international banking, and has served with the Reserve Bank of India (RBI) and as Chairman of National Payments Corporation of India (NPCI).
He has served as Director and CEO of Institute for Development and Research in Banking Technology (IDRBT), Hyderabad. Earlier, he was Chairman and Managing Director of Corporation Bank, Executive Director of Indian Bank and as Non-Executive Chairman of Indian Bank Housing, Indian Bank Capital Market and Corporation Bank Securities Ltd.
Along with his team, he has innovated a first of its kind low-cost ICT enabled branchless banking model in Corporation Bank as a part of its Financial Inclusion programme. He is an ardent practitioner of the 3Ps (People, Product and Process) driven operating model.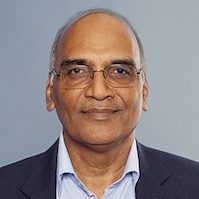 Mr. V Ram Kaundinya is an industry veteran who is Independent Director on the Board of Axis Bank Ltd since 2009 and Advanta India Ltd since 2014. He has served as the CEO & Managing Director of Advanta India for 7 years and is also the Director General of the Association of the Biotech Led Enterprises- Agriculture Focus Group (ABLE-AG).
He has led the global seed business of Advanta India, a Dutch company acquired by United Phosphorus in 2006. He started with an $85M business and grew it to more than $200M in 7 years, leading a global team conducting operations in Australia, Indonesia, France, USA, and Brazil among others.
His experience in the seed & agriculture industry ranges over 26 years, including agrochemicals manufacturing and marketing, operations management, strategic planning and business development throughout India. He has served as Director of the Association of Seed Industry, Mumbai from 2002 to 2006 and as the Chairman of CropLife India from 1998 to 2002. Ram is an alumnus of IIM Ahmedabad (specialisation in Agriculture).