We at AND Business Consulting were excited when a billion-dollar multinational chemical company engaged us to understand the Indian seed market opportunity. To be more specific, they needed to conduct a market characterization study on the seed business opportunity in India. Our Client was conducting a similar study in several South & South-East Asian markets. They intended to use these insights to choose the sub-market, products and market entry strategy in India.
Assignment Objectives: Indian Seed Market Opportunity
At the outset, the Client set us the following assignment objectives:
– Better understanding and characterization of seed market, with focus on 3 main crops
– Assessment of current market dynamics and opportunity in the next 10-20 years
– Market entry strategy for the seeds business unit
– Potential challenges in the context of the specific products
Clear & Comprehensive Approach
AND put together an internal team of talented market analysts, led by highly-skilled and well networked subject matter experts. Our primary study was spearheaded by an industry veteran who retired as the CEO of one of largest seed businesses in India. Over the course of the study, we interviewed over a dozen individuals who are heads in government departments, private companies, and research institutions.
Overall, our methodology included the following steps:
Step 1: Market analysis through desktop study and interviews with subject matter experts
Step 2: Information on political scenario in India, regulations, and policy interventions
Step 3: Alternative evaluation for market entry by using frameworks such as SWOT analysis, Porters five force model and AND's in-house market forces framework (seen below)
Step 4: Data analysis and interpretations
Step 5: Detailed recommendations and action plan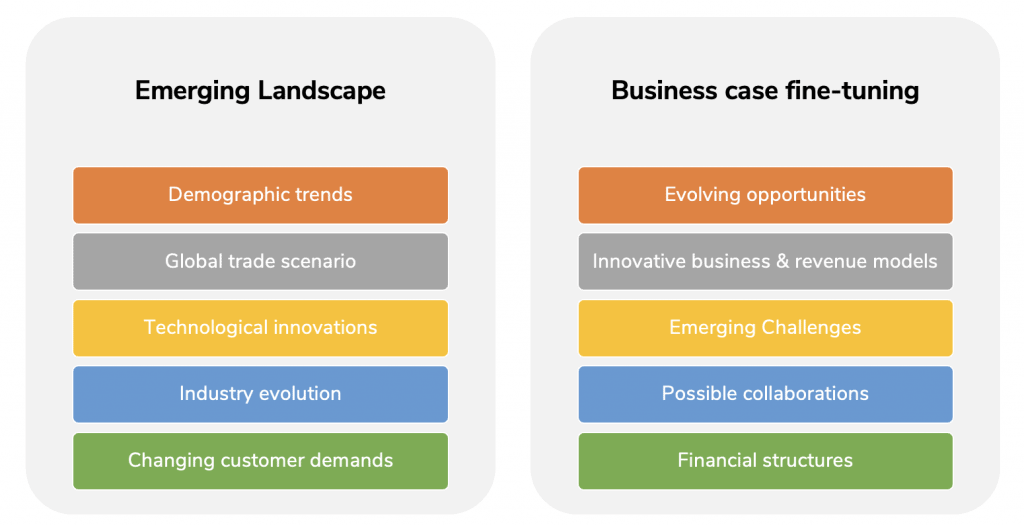 Insights to support decision making
Our team gave the Client an in-depth understanding of the seed business in India and a more detailed study on certain key crops.
Specifically, we described the following in detail:
demographic trends,
drivers and dynamics,
competition,
collaboration opportunities,
market size,
technological innovations & adoption,
varieties of seeds in demand,
innovative business and revenue models,
challenges, and opportunities.
In addition, we were able to provide guidance on activities to focus on across the value chain i.e. across research, production, and commercialization.
Indian Seed Market Opportunity project outcomes
Our research enabled the Client to better understand the Indian seed market opportunity, and gain the confidence to make a decision to enter the country.
For us at AND Business Consulting too, this was a successful assignment as the Client gave the team a glowing recommendation. They have now engaged with us for another study that we hope to make a similar impact with.