What is a Cohort?
A common business analytics term – "cohort" – is sometimes interchangeably used with the marketing term "segment". Though both the terms are used to group a set of customers into buckets, the real meaning of cohort is linked with time period. For a group of users/customers to be considered a cohort, they are bound to be linked to a particular time period, either acquisition date, transaction date, app install date etc.
Hence for a business model based on subscriptions, especially in the likes of SaaS models, acquired customers are generally put into cohorts and analysed for behaviour patterns and new insights.
Here at AND Business Consulting, we have helped several companies to understand their key metrics to be analysed through cohort analysis and support decision making for business strategy.
Cohort Analysis
It is a very common business analytics method for companies to gather insights on customer's behaviour and patterns and then strategize methods for achieving the company's objectives. During the analysis userbase as a whole is considered for analysis and not individual users. One very common method of analysis is bucketing user base based on time at which the users are acquired. Such analysis will provide insights into retention and attrition (churn) rates. Some questions that can be answered by common cohort analysis are:
How customers acquired during a particular month will behave as compared to another month?
What will be the LTV of customers acquired through different channels?
Project customer acquisition and retention going forward in time
And other business insights on related lines.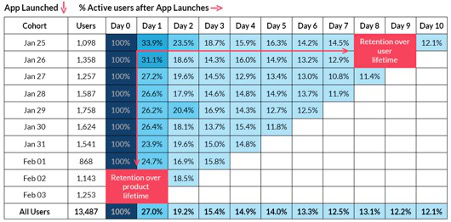 Source: Cohort Analysis: Beginners Guide to Improving Retention
Why Cohort Analysis is crucial for SaaS business models?
The main aspect for the success of any SaaS product is retention, also mentioned as stickiness. Companies should continuously monitor churn rates, acquisition rates etc. and identify the correct mix of features to retain existing customers and acquire new ones at the same time.
Through cohort analysis it can be predicted if the customers are churning before achieving the minimum targeted LTV and companies can understand how long to engage the customer achieve the targets.
Also, for testing new features, this simple analysis can quickly determine what works and what must be scrapped.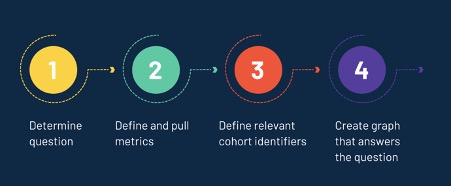 Source: Cohort Analysis: An Insider Look at Your Customer's Behaviour
Steps of a Cohort Analysis
Identifying the objective – defining the question to be answered
In order to arrive at actionable insights for the company's management, it is highly essential to ask the write questions. Statistical results can both be harmful and helpful depending on the question being asked and interpretation of the data
Identifying the key metrics for analysis
Any analysis required metrics that are measurable and quantified based on different parameters. These key metrics are generally the once that are being tracked on a timely basis for business strategy purposes. The definition of any analysis is given by the key metric under consideration.
Defining the relevant cohort
Like discussed above, every data point in a cohort must share a relation depending on time as well as the data under consideration. For example, users acquired in the same month, can be categorised by subscription plans and compared with users acquired in the same month last year.
Analysis and visualisation
Data visualisation is critical and highly essential for interpreting insights, for the major reason being the presence of a large amount of data that is difficult to comprehend
What to do next?
The trouble with cohort analysis is that it categorizes users commonly by one distinctly way: by timw of user sign up. For example, knowing that an older version is being preferred by users is not very helpful if you are looking for ways to attain more users. In the same way, just because retention rates are increasing doesn't mean that existing customers must be ignored and focus on product development.
The key to cohort analysis is iteration. Acquiring more data, analysing, taking decisions and measuring the impact is a continuous cycle. Depending upon the question being asked, cohort analysis will provide an insight, based on the metrics and data used for analysis. We at AND Business Consulting have helped multiple SaaS and Subscription based businesses to identify, establish and continuously monitor the key success metrics leveraging our industry experience.